Where we go to talk and learn
Festival of Literacies

The Learning Circles Project

---
What we read
Illiteracy and Poverty in Canada: Toward a Critical Perspective

Literacy: Charitable Enterprise or Political Right

Declaration of Persepolis

---
Where we learn from our friends online
AlphaPlus

Jenny Horsman

and the Learning and Violence Site

Literacies:Researching Practice, Practising Research

Literacy and Equality in Irish Society

Research and Practice in Adult Literacy - RaPAL


(English)
Research in Practice in Adult Literacy - RiPAL


(Canadian)
---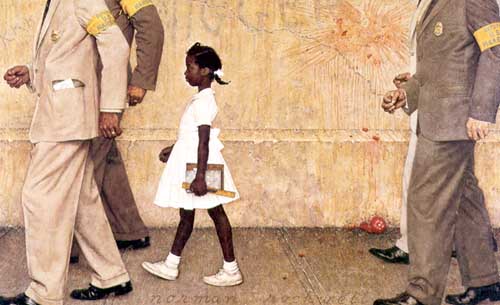 Read all about the "Rubric for Filing" and the "Multi-Modal Pumpkin Unit" in Still Separate, Still Unequal: America's Educational Apartheid by Jonathan Kozol from Harper's Magazine, September 2005

The Problem We All Live With by Norman Rockwell.
In this article, Kozol writes about class and race inequity in the US education system. He also discusses the effects of a curriculum designed to produce 'productive citizens' (read compliant workers?) has on students and teachers.
"Forcing an absurdity on teachers does teach something," said an African-American professor. "It teaches acquiescence. It breaks down the will to thumb your nose at pointless protocols to call absurdity 'absurd'."


Jonathan Kozol
"Pick battles big enough to matter, small enough to win." and "Charity isn't a good substitute for justice"
---